The Mixing Zephyr Pages
Mixing Zephyr Program
Dive 2926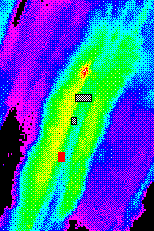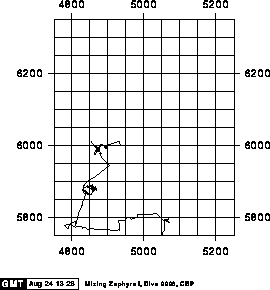 Port Observer: Delaney
Starboard Observer: Lilley
Pilot: Williams
Date: 5/30/95
Summary
Dive Goals: Finish sampling fluids in Main Endeavour Field
Summary: On bottom at 9:34 at 5043,5759. Traveling on lobate and pillow flows. Around 9:55 encountered 3 sulfide spires 1 m high. Lots of sulfide boulders in this area. Driving west to find the wall and finding more and more dead sulfide structures on the way. 10:08 back on basalt. Reached the wall around 10:15 and saw an old OBS tripod, (4782, 5768, 2173, alt 5m). Finally arriving in an area of active sulfide structure and finding marker arrow on Salut (at the southern end of MEF).
At Salut: A5 marker placed 3-5 m south of Arrow marker after taking a look at the structure. Sampling fluids at the southern end of the structure. Manifold port majors and both gas tights. Sample of flange taken. Manifold sampling of flange port and inner port majors and both GTs. Heading for Puffer.
At Puffer: T 380°C. GT 5,7 Major 10,12. Marker AE placed, 4867,5991, 2193, alt 5m, 173.
---
Port Observer Narrative
Starboard Observer Narrative
---
MORP Home | Mixing Zephyr Home | Search the Mixing Zephyr Pages
---
The Mixing Zephyr Pages
Maintained by Russ McDuff (mcduff@ocean.washington.edu)
Copyright (©) 1995,1996 University of Washington; Copyright Notice
Content Last Modified 8/2/96
Page Last Built 9/12/96