The Mixing Zephyr Pages
Mixing Zephyr Program
Dive 2930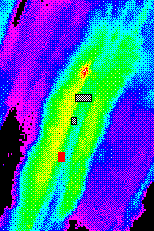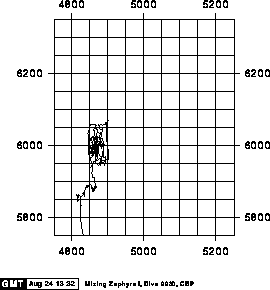 Port Observer: McDuff
Starboard Observer: Parker
Pilot: Williams
Date: 6/4/95
Summary
Dive Objectives:1) locate and release 14.5 kHz transponder
2) visit Salut and measure depths in flange pool needed for construction of j-hook
3) run Mesotech survey of the Bastille complex
4) locate marker R at Bastille and sample
5) additional sampling as possible
Summary : The dive was launched north of the transponder target location (5591,5120), landing approximately 200 meters due north of the transponder. The sub traveled south noting ranges to the transponder. When the range fell below 0.1 second (two-way, about 75 meters), we adjusted depth to the nominal depth of the transponder and continued south toward it, sighting it soon thereafter. Fix at the release point(5617,5154). The transponder was released just before 1000L.
We transited at height toward Salut (4840,5870), arriving by about 1050L. Measurements were made of the depth of the main flange pool: first to the right side recording 2 cm and less, then in the more the central portion where the depth was 3 cm. The smaller pools further back under the lip of the flange were quite shallow (< 1 cm). Finished here about 1135L.
We then hopped to the starting location of the Mesotech survey (target (4850,5950), actual (4860,5965)) to check the seafloor depth which was 2195 meters. (At this point we observed a structure with one smoker on its upper surface which we eventually returned to at the end of the dive to sample.) About 1155L, we began flying a series of alternating north and south lines, completing the survey about 1250L.
We then began to search for marker R by positioning ourselves south of the Bastille complex at about x=4880 and driving on a course 000, soon reaching a marker P shortly. There was no marker P on the map. We considered two possibilities--there was an unmapped marker or R had lost one of its legs (N.B. we believe the later to be true). After an excursion to the north and west of Bastille, we returned to the area surrounded by Bastille-Needle-Tara-Sully-Puffer and sighted the P marker well below us to port. We sampled the vent there with the manifold sampler, beginning about 1330L. See the port side narrative for information re problems with manifold on this sample. Samples were taken in the sequence port outboard major, port inboard major, port gas tight, starboard gas tight. Marker AM was placed at the vent sampled. Work was completed here about 1405L.
We then proceeded southwest to the structure we had seen prior to the start of the Mesotech survey. The ALVIN temperature probe recorded 349 degrees. The vent was sampled in sequence gas tight blue 2 (didn't fire?), gas tight red 5, major blue 10. Marker AP was placed.
---
Port Observer Narrative
Starboard Observer Narrative
---
MORP Home | Mixing Zephyr Home | Search the Mixing Zephyr Pages
---
The Mixing Zephyr Pages
Maintained by Russ McDuff (mcduff@ocean.washington.edu)
Copyright (©) 1995,1996 University of Washington; Copyright Notice
Content Last Modified 8/2/96
Page Last Built 9/12/96