The Mixing Zephyr Pages
Mixing Zephyr Program
Dive 2935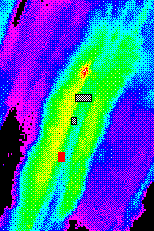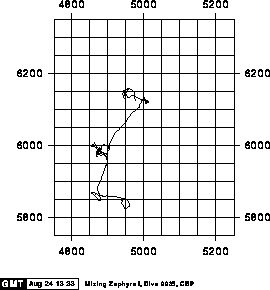 Port Observer: Lilley
Starboard Observer: Cherkaoui
Pilot: Hickey
Date: 6/13/95
Summary
Dive Objectives: Objectives for this dive were the following:
- Retrieve and recover J-hook #1 installed on Salut.
- Install J-hook #2 at the same spot.
- Sample the flange at Salut.
- Explore the Bastille complex and other northern structures (Dudley, Grotto..) and look for a flange.
- Sample water in Bastille complex.
- Collect biology around Bastille complex.
- Recover the T-probe installed at Puffer.
Summary: Launch site: 300 meters east of the vertical of Salut: X=5150, Y=5855.
Lat: 47 56.794 N - Long: 129 5.739 W
Landing target: Salut (X=4950, Y=5855).
We immersed at 8:07 at the expected launch site. We landed at 9:29 right in front of Salut and set in front of the flange that hosted J-hook #1. The second J-hook was installed at 9:33 right next to the first one which was moved a little bit to the left side.
We monitored the J-hook readings for about 45 minutes. The temperature from the J-hook didn't coincide with ALVIN's T-probe reading (340.6).
We spent 1 hour and 15 minutes at Salut and collected 2 majors and 1 gas tight with a temperature of 328 and 331 respectively. We left Salut at 10:47 and headed N-NW.
Next we arrived pretty much on Sully, passed it and headed for Puffer. I had great view of the fault scarp trending NW between Sully and Puffer. Pat set up the sub at Puffer at marker AE and sampled the puffing smoker. 1 major and 1 gas tight (yellow) were taken. The temperature of the smoker was at a maximum of 376.7.
We left Puffer at 11:47 looking for a flange. We quickly found a superb one on an unmapped structure (probably a new one judging by its small size). The flange is on a three meter high, 2 meter diameter, cylinder shaped structure located between Bastille, Needle and Tara right NE of Puffer. The temperature of the pool's fluid is 352.5. The pools depth is about 4 marks on the flange saw. We left marker AS that fell right below the flange. We passed by Tara and headed for Dudley at 12:21.
At Dudley we set in front on what looked to be a rather wide (1 m) double flange. The temperature was 309 deg C and the depth was 5 marks at the back of the right pool and 2 up front. We sampled Dudley at marker AA's neighboring smoker; 1 major (red 12) and 1 gas tight (purple). We also collected two handfuls of tube worms at marker AA.
We left Dudley at 13:05 heading for Grotto. We sampled Grotto at marker BA and collected 2 majors and one gas tight. The sampling temperature was 346, 354 and 355 respectively. We also collected a piece of the chimney there. We left the bottom at 13:30.
---
Port Observer Narrative
Starboard Observer Narrative
---
MORP Home | Mixing Zephyr Home | Search the Mixing Zephyr Pages
---
The Mixing Zephyr Pages
Maintained by Russ McDuff (mcduff@ocean.washington.edu)
Copyright (©) 1995,1996 University of Washington; Copyright Notice
Content Last Modified 8/2/96
Page Last Built 9/12/96