The Mixing Zephyr Pages
Mixing Zephyr Program
rad, Re-navigating ALVIN Dives
rad is a Matlab program used to work, via a graphical user interface, with navigational data from the ALVIN data logger. The current release is v1.2. rad was programmed by Abdellah Cherkaoui and Christian Parker, the "rad tough dudes".

Example of travel times and fixes filtering using rad's graphical user interface



Dive 2030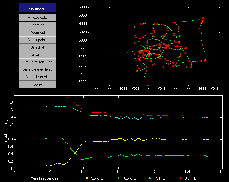 Main features
RAD 'Re-navigating ALVIN Data' (ver. 1.1) has been designed during the first leg of the Mixing Zephyrs research cruise. Its aim is to effectively process and recrunch Alvin's in-hull navigation data.
The version 1.1 of RAD performs essentially four tasks:
- Extraction, sorting and rearranging of the raw, in-hull navigation data read in the Alvin log files. A partial listing of the raw extracted data (time, x, y, depth, altitude and heading) can be obtained and printed to a file by using the second option of the main menu.
- Filtering of:

- the anomalous, in-hull computed fixes, allowing the production of a reference dive track. This has proven very useful for rapid, first order processing of the dive videos and transcripts.
- the anomalous travel times for posterior recrunching using a parallel fortran inversion code.
- Crunching of the travel times using pre-surveyed transponder nets.
- Graphical edition of the data obtained (production of dive tracks and depth or altitude profiles).
Last revision: 06.12.95

By the RAD tough dudes :
Christian B. Parker. UW Oceanography. cbp@ocean.washington.edu
Abdellah S.M. Cherkaoui. UW Oceanography. abdul@ocean.washington.edu
Click here for a full documentation.
---
Wherever you go, there you are.
---
MORP Home | Mixing Zephyr Home | Search the Mixing Zephyr Pages
---
The Mixing Zephyr Pages
Maintained by Russ McDuff (mcduff@ocean.washington.edu)
Copyright (©) 1995,1996 University of Washington; Copyright Notice
Content Last Modified 9/19/95
Page Last Built 8/4/96